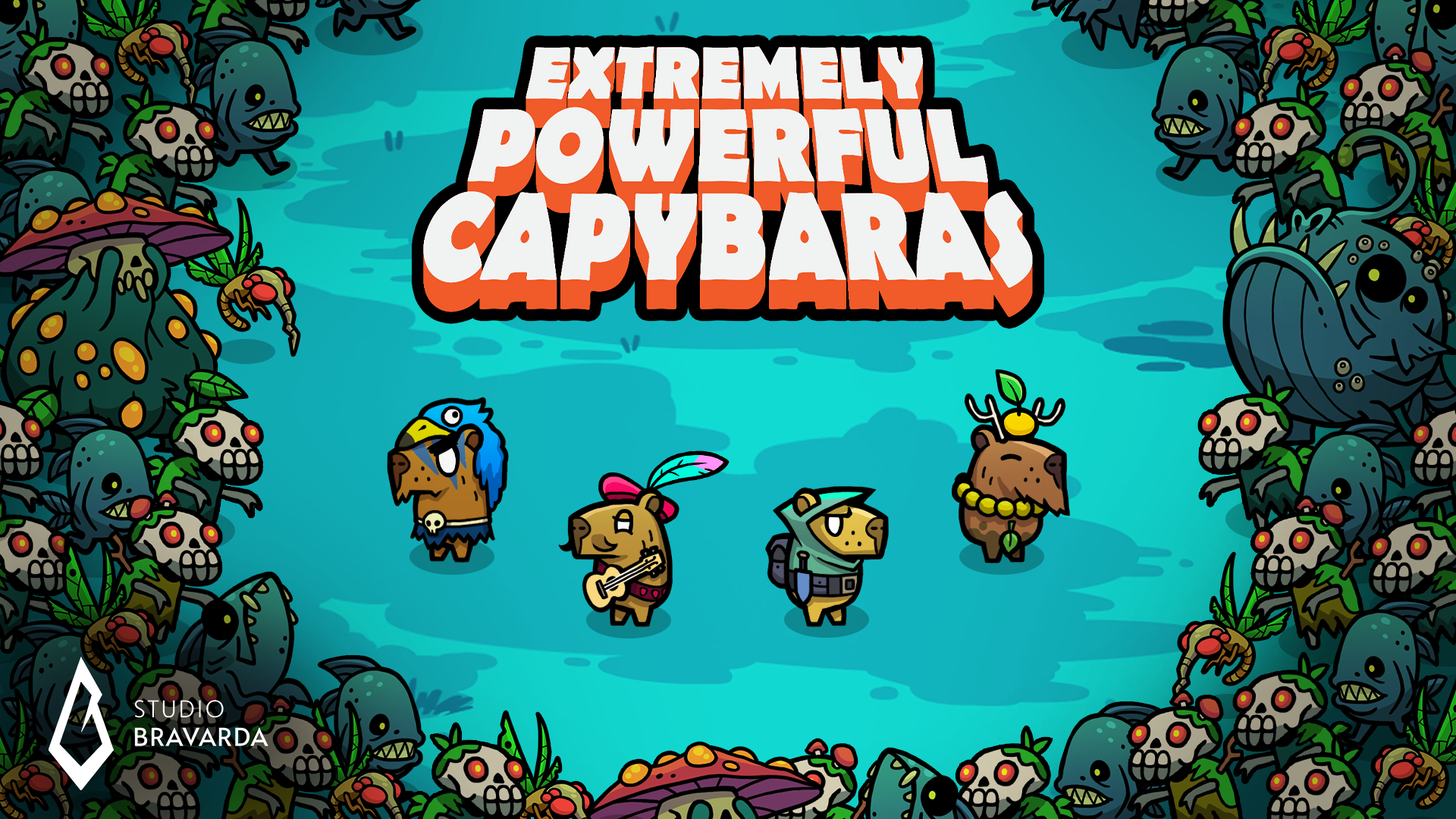 Extremely Powerful Capybaras
PATCH NOTES - Demo V0.2.40
---
PATCH NOTES - Demo V 0.2.40
-------------------------------------------------
FIXES
⚔️ Fixed and improved the experience bar.
⚔️ Fixed a bug that prevented the use of "W" to confirm prompts on level up.
- Polished the camera on multiplayer mode to avoid the "infinite zoom out" issue when players are too far from each other.
CHANGES
⚔️ Reduced the drop rates for experience pickups, but increased the amount of experience each one gives.
⚔️ Changed how the respawn mechanic works: now the number of kills necessary to revive another capybara goes up each time a player dies.
⚔️ The "W" to confirm prompts are faster.
⚔️ Increased player speed.
⚔️ Removed the boss-summoning circle. A lot of players were getting confused, because completing the summon ended the run in the demo, instead of actually summoning a boss (as there is no boss available in the demo yet). The run now ends automatically when the countdown reaches 0.
⚔️ Changed the timer to a countdown, rather than making it count up. This is meant to give players a better feel of when the run will end right from the start.
- Polished the gamefeel of experience orbs and added a new animation.
- Polished the chest zone's sprite and feel.
- Changed the map size.
- The game now stays in 16:9 resolution automatically to prevent UI scaling issues.
Once again, the fixes with the ⚔️ were suggested by the community. Thank you all so much for playing our capybara game and giving us your feedback!
-------------------------------
RESOLVIDO
⚔️ Barra de experiência corrigida e aprimorada.
⚔️ Corrigido o erro que impedia o "W" de confirmar ao subir de nível.
- Consertada a câmera no modo multiplayer para evitar o problema de "zoom infinito" quando jogadores se afastam muito.
MUDANÇAS
⚔️ Taxa do drop de experiência foi reduzida, mas aumentamos a quantidade de XP que cada orb dá.
⚔️ Novo funcionamento da mecânica de respawn: agora o número de mortes/sacrifícios necessários para reviver outra capivara aumenta cada vez que um jogador morre.
⚔️ O "W" para confirmar está mais rápido.
⚔️ Aumento da velocidade de jogador.
⚔️ Removido o círculo de invocação de chefão. Estava confuso, porque completar a invocação encerrava a partida, ao invés de realmente invocar um chefe (já que ainda não há chefe disponível na demo). A partida agora termina automaticamente quando a contagem regressiva chega a 0.
⚔️ O cronômetro foi trocado por uma contagem regressiva de 10 a 0, ao invés de fazer uma contagem crescente, para que fique mais claro quando a partida deve acabar.
- Novas animações para as orbs de XP.
- Polimento do círculo que desbloqueia os baús de tesouro.
- Novo tamanho do mapa.
- O jogo agora fica na resolução 16:9 automaticamente pra impedir problemas de escala nos menus.
Mais uma vez, os fixes com o ⚔️ foram sugeridos pela comunidade. Agradecemos muito por vocês estarem jogando nosso jogo de capivara e mandando feedbacks!
Files
extremely-powerful-capybaras-win64-demo.zip
88 MB
Version 0.2.40
84 days ago
Get Extremely Powerful Capybaras