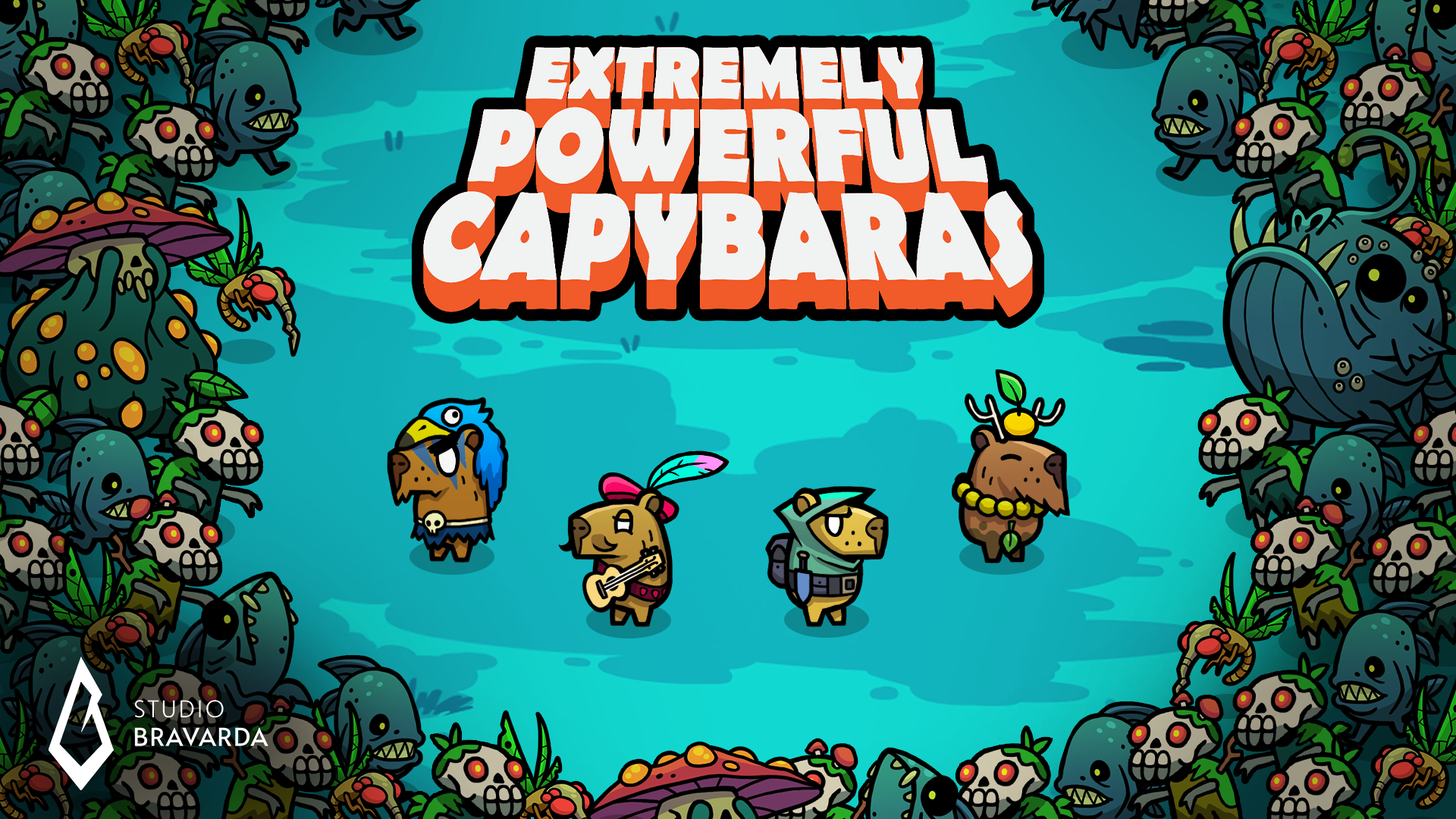 Extremely Powerful Capybaras
PATCH NOTES - Demo V 0.2.22
---
PATCH NOTES - Demo V 0.2.22
-------------------------------------------------
NEW
✨ New Passive Particles
- Every passive in the game now has an associated particle, so the Capybaras feel even more powerful.
FIXES
⚔️ Fixed bug where enemies would spawn in the Lobby
⚔️ Changed end game so that the enemies don't explode in particles at the end of the run, the enemies are now deactivated.
⚔️ Fixed issue where if the player was at the max level and max health, they could not pickup the Watermelon card.
⚔️ Fixed (I hope) bug where the player would appear red after respawning.
- This bug is annoying. If it happens to you, be sure to report it.
CHANGED
⚔️ Jabuti's Protection was nerfed, players no longer become invincible at Level 5.
- Change some fonts around the UI so it's more readable.
Once again, the fixes with the ⚔️ were suggested by the community. Thank you all so much for playing our capybara game and giving us your feedback!
-------------------------------
NOVO
✨ Novas Partículas de Habilidades Passivas
- Todas as habilidades passivas agora tem partículas, para que as Capivaras pareçam ainda mais poderosas
RESOLVIDO
⚔️ Resolvido o bug onde os inimigos aparecem na Fonte.
⚔️ Mudança no fim do jogo para que os inimigos não explodam, os inimigos agora são desativados.
⚔️ Resolvido o problema que impedida o jogador no nível máximo e com a vida cheia usasse a carta Melancia.
⚔️ Resolvido (eu espero) o bug que deixava o jogador vermelho após ser ressuscitado.
- Esse bug é chato pra caramba, se acontecer com você, por favor use o sistema para reportar.
MUDANÇAS
⚔️ A Proteção do Jabuti foi alterada, o jogador não pode mais se tornar invulnerável no Nível 5 dessa habilidade.
- Mudança nas fontes da interface.
Os fixes com o ⚔️ foram sugeridos pela comunidade. Agradecemos muito por vocês estarem jogando nosso jogo de capivara e mandando feedbacks!
Files
extremely-powerful-capybaras-win64-demo.zip
88 MB
Version 0.2.22
90 days ago
Get Extremely Powerful Capybaras